Welcome To "WeAgree"
This is a not-for-pofit blog website dedicated to Elderly health issues and the best aid and care tips. Care for the elderly is everyone's concern, because we are all getting older and will eventually be classed as elderly, and most of us have old people in our families that we want to see looked after and cared for. Issues like neglect of the elderly and age discrimination have become serious problems in today's society, and we want to create awareness of these and other pressing matters that affect elderly Britain. We do a lot of work in training human resources managers about how to make sure their staff are sensitive to the needs of elderly workers and stamping out ageism in workplaces.
Happy Aging 
Old age is an inevitable part of our life cycle and should be lived easily rather than grudgingly. In today's fast paced world we only start noticing signs of old age much after the gradual process is well underway, the aim of our organization is to try and make sure elderly men and women are taken care of and allowed to grow old and die in comfort and dignity. We are involved in partitioning the government to raise requirements for standards of care in retirement homes and dementia homes across the country.
Support & Donate Now The meaning of life is a life of purpose. So begin donating now for the specific cause.
Our Centers
We have around 7 centers all over UK. Our club is a program that initiates a better knowledge of the problems of ageing from a social view and provides a platform for the aged as well as those concerned to come together to share and care for one another. We are partnered with an organization called Discovery Learning, who allow us to use their training centres in London and other major urban areas in the UK.
    Agewell Training program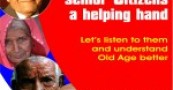 Agewell program has begin a Sensitization and Training program for various stakeholders and NOGs about needs & rights of older people..
Free Healthcare Campaigns for Destitute Elderly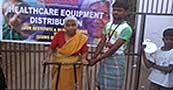 An action to recognize basic healthcare necessities of destitute elderly living in the slums and provide them with medical/healthcare assistance